Ah Summer!  As you read this we may have just had another blast of snow, or cold, or ice, or perhaps you are reading this as Mud Season begins in earnest. Whatever the season now, Summer is always lurking in the back of your mind as the time of "Ahhhhh…"
Well, now is the time to think of where to spend some of our rarest season at a place made to reap the benefits of that season. Yes, that magical place is Pilgrim Lodge. And it's not just for kids! As a matter of fact, PL is a well-kept secret for adults! There are many opportunities for adults to enjoy our beloved camp, but none as relaxing as Lighten Up, Loosen Up.
Don't get us wrong, we plan plenty of activities but must stress the fact that you can opt out of everything and just hang loose if you wish.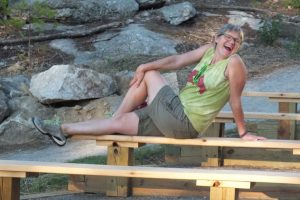 Many of our regulars have been coming for years and know that we plan the usual camp activities such as swimming, boating, hiking, singing, worshipping, and of course, eating. But in addition to those old chestnuts, we offer sitting, breathing, reading, chatting, knitting, rocking, napping, laughing, breathing, sighing, watching, listening, snoring, sewing, wool-gathering, day-dreaming, and of course, our daily ice-cream.
If none of that interests you, how about bringing something to put in the UN-silent auction to raise money for our mission? Or perhaps you would like to offer up something for the talent show? We haven't had any chainsaw jugglers yet, and would welcome the opportunity to ooh and aah over that one!
Many campers come with a project or two to work on while here at Pilgrim Lodge (clap-clap), and we always have a fun art or craft up our sleeves to teach or share with everyone, so your time here will never be boring. Although, in the crazy-busy times we live in wouldn't that be a nice change?
Every night we pull out the games and fill the Lodge with laughter and silliness. We even have access to the big screen and show movies for those who need a more relaxing evening. Some folks just need to turn in after an exhausting day of doing nothing. Yup, it's true, sleep comes pretty easy after spending time at the lake, hanging with old and new friends, and leaving the cares of the world behind for five glorious days.
Just imagine, no cooking, no cleaning, no telephones, no worries. Heaven.
So don't just imagine it, come join us. Lighten up, loosen up, and come to camp for Heaven's sake!