In the fall of 2017, Rev. Bryan S. Breault, long time Director of Pilgrim Lodge, discerned it was time for him to move on to a new place of ministry to continue his service in Christian camping. In a video message, he explained, "The time has come. Pilgrim Lodge needs to move into the future and needs to go with a bold new vision, and it's time for me to move on. I am very excited about this even as I am so sad to be leaving Pilgrim Lodge, but I do think it is what God is calling me to. And I think it is what God is calling for Pilgrim Lodge." He emphasized that, "Pilgrim Lodge is perfectly poised to put ourselves ready for the next phase. I've been through a lot of phases at Pilgrim Lodge and a lot of changes. And I know that Pilgrim Lodge is resilient, and that at its core, it's really about the people who come here. And it's about trying to create intentional community."
It was that spirit of community that brought volunteers, campers, staff, and supporters of Pilgrim Lodge together on Sunday, January 14, 2018, to honor Bryan's 20 years of ministry at Pilgrim Lodge as the Director of Outdoor Ministries for the Maine Conference, United Church of Christ.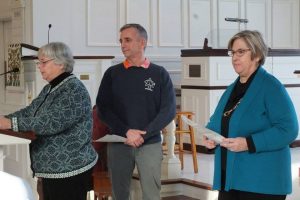 The celebration started with a worship service led by Maine Conference of the United Church of Christ Conference Minister, Rev. Deborah Blood, and Rev. Sally Colegrove with long-time members of the Pilgrim Lodge community assisting. Ruth Choate and Liz Charles McGough read passages of scripture and Sam Williams and John Rimkunas provided musical accompaniment. David C. Clark gave the message that while Bryan may be going to a new place, Pilgrim Lodge will always be a part of who he is, and he will always be a part of Pilgrim Lodge. The service honored Bryan's ministry, his faith, the "Recognition of the End of an Authorized Ministry," and the many ways he has infused Pilgrim Lodge with his spirit over the years.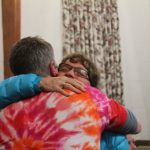 Following worship was a time of fellowship, reflection, and general camp silliness. People came together to offer food, music, skits and songs, photographs, messages, and testaments to the work of Bryan's ministry in their lives.  Stories were received and shared from across the country and abroad. Time together included tearful and sincere goodbyes as well as lots of laughter as some of the antics of Bryan's role of as Camp Director were recalled.
Some of Bryan's accomplishments during his 20 year tenure include Pilgrim Lodge's American Camp Association (ACA) accreditation, creation of the labyrinth, rebuilding cabin 5 after fire, and creating a well-marked trail system traversing the majority of the site. Acquiring new mattresses, construction of the outdoor amphitheater, re-purposing the Lodge for program space, dock repair and upgrade, re-building the boardwalk, creating accessible paths to the chapel and labyrinth, as well as the building of the new dining hall, Quitobaquito, are some of the many projects accomplished as a result of the successful 2 million dollar "We Want to Pass It On" capital campaign overseen by Bryan. Of course, creating 20 summers of safe, loving, Christian community for campers, staff, and volunteers will be the legacy for which Bryan will be best remembered.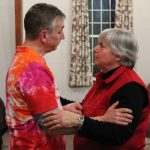 When asked to describe the event, Rev. Sally Colegrove reflected that, "The afternoon made Bryan very happy at a difficult time of transition. He was surrounded by so many different years of friends from Pilgrim Lodge. Instead of it being a sad time of farewell, it was a very happy time of memories and friendships."
Camp songs were sung, tears were shed, and a temporary loving Christian community was again created to celebrate the ministry of Rev Bryan Breault. The Maine Conference of the United Church of Christ and the entire Pilgrim Lodge community send blessings to Bryan as he continues his ministry as the Executive Director of Holmes Presbyterian Camp and Conference Center in Holmes, New York.
"Go in peace. The journey on which you go is under the eye of the Lord." – Judges 18:6
Written by Ruth Choate with contributions from Elizabeth Charles McGough and Rev. Sally Colegrove