Many of us recall those life-changing summer camp experiences.  Maybe it's the shimmering, golden sparkle of a lake on a sunny morning, or peacefully paddling a canoe with a friend, or singing camp songs and making s'mores by a campfire. In the Maine Conference of the United Church of Christ, those memories are centered at Pilgrim Lodge.
Do you remember singing the campfire song, "Pass It On"?
It only takes a spark to get a fire going,
And soon all those around can warm up to its glowing;
That's how it is with God's Love,
Once you've experienced it,
You spread God's Love to everyone.
You want to pass it on!
- Kurt Kaiser

Pilgrim Lodge has been passing it on for 57 years!

The camp's sights and sounds continue to make special memories. You can still hear more than tramping feet on the boardwalk:  snatches of song, laughter, and excited wonder. The chapel overlooking Lake Cobbosseecontee still connects campers to nature, new friends, and God's love. The Labyrinth still leads campers into quiet and mystery, the dining hall leads to spirited table graces and discussion, and the Lodge to games of discovery.
But 57 years of heavy wear and tear by thousands of happy campers is now showing all around the camp:
Many of the buildings are set on crumbling foundations
The 1930's era Main Lodge's floors have become so thin that they cannot be sanded down again
The kitchen is woefully outdated
Sections of the septic and water systems must be replaced and brought up to code
Just as importantly, parts of the camp simply do not meet the needs of campers who'd love to spend time here and fully partake in all that Pilgrim Lodge offers! The Chapel, the Waterfront, the Boardwalk and the Labyrinth are not fully accessible to people with physical limitations.
To pass it on to future generations now requires major investment in the infrastructure of Pilgrim Lodge. In addition to the repair work, here's a look at a vision for new construction: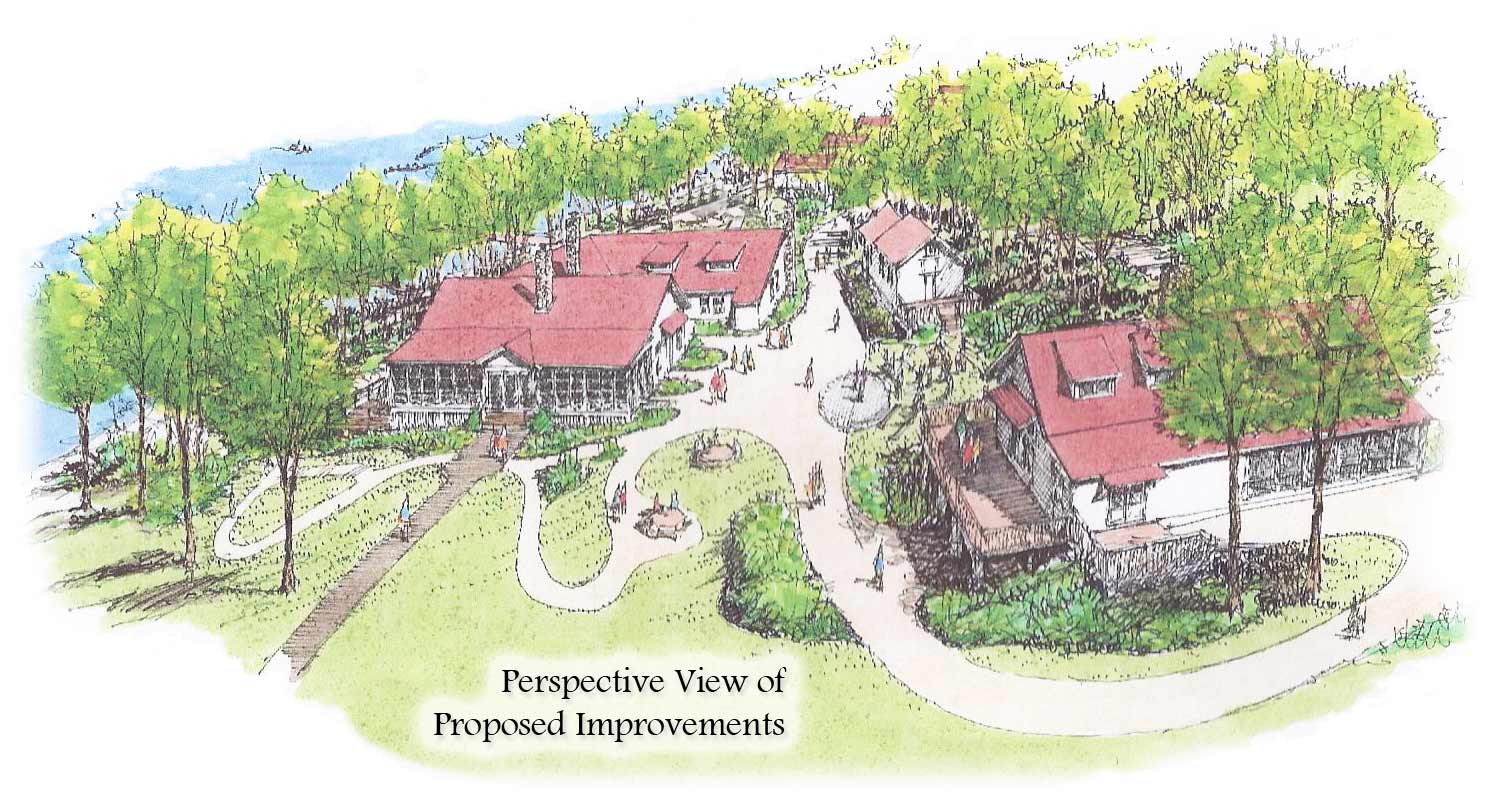 Accessible lift and ramp systems to the Labyrinth, Chapel and Waterfront
A new building, "Hillside", which will include a camper drop-off area, a modern kitchen and a dining hall to seat and serve 200
The existing Lodge will be undergirded and re-floored to provide safe, flexible program space
An amphitheater overlooking the lake for morning start-ups and all camp meetings will be set into the naturally curved rise between the office and the new dining hall.
The total cost of the projects is estimated at $2,000,000. Here's how we plan to reach the goal:
$750,000 lead gift from the Maine Conference of the United Church of Christ. (Important news update! The Conference lead gift has allowed work to begin. The new boardwalk is already finished!)
$250,000 from churches in pledges over five years
$1,000,000 from individuals in pledges over five years
Here's where you come in!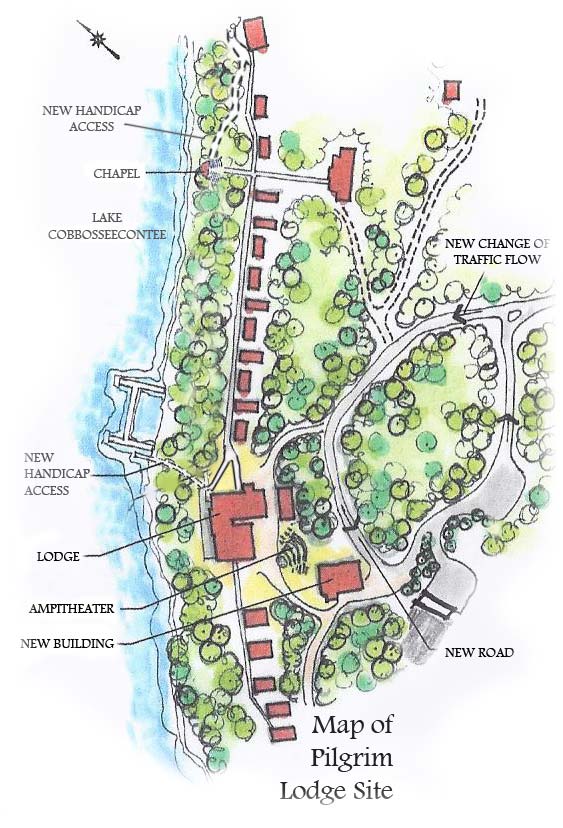 You will be hearing from the campaign in the coming months – by mail, by text, by campaign website, by phone call, by personal visit, by church service and by word of mouth.
 If you are a member of a church in the Maine Conference, please urge your congregation to make a pledge to the campaign. If you are an alum, a parent, a grandparent or a friend of Pilgrim Lodge, please consider joining hundreds of former campers, friends and family in supporting the future of Pilgrim Lodge by making a personal pledge to be paid over five years.
To keep up with news of the campaign and to find out more about pledging, check out the News & Updates page.
Thank you!   And remember!
 It only takes a spark to get a fire going.
WE WANT TO PASS IT ON!