Summer job applications are now posted.
Please read the Staff Covenant before applying.

---
Camper Creates New PL Nature Trail
PL camper Ben DiSalvatore has created a new nature trail at Pilgrim Lodge as his Eagle Scout service project. Click for the story!
---
Great Article About the Congregational Craftsmen of Bethel
who have done so much for Pilgrim Lodge!
---

Announcement Regarding Associate Director of Outdoor Ministries!
We are very pleased to announce that Ms. Mollie R. Landers has been chosen as the Associate Director of Outdoor Ministries for the New Hampshire and Maine Conferences. Last summer Mollie served as the Acting Director of Outdoor Ministries at Pilgrim Lodge while Bryan Breault was on sabbatical.

Mollie holds an M.Div. from Wesley Theological Seminary in Washington, DC; a Masters of Art Theological Studies from Andover Newton; and a Bachelors of Arts, Religion and Philosophy (with a concentration in Outdoor Ministries) from Catawba College in Salisbury, NC. She also served as Assistant to the Director at Pilgrim Lodge in 2010 and PL Resource Coordinator in 2008; Director of Youth Ministries at St. Stephens UMC in Burke, VA from 2008-2009; Youth Director at Gays Chapel UMC in Salisbury, NC from 2006-2008; and was on the staff of the Hartman Center UCC Camp and Retreat Center in Milroy, PA from 2004-2006.

Mollie, who will be based primarily in New Hampshire, brings proven experience and great enthusiasm to this position. We anticipate that she will be ordained to this ministry later this year. She is currently a Member in Discernment in the Penn Central Conference. Mollie will begin her duties on June 11th.
---

EXCITING NEWS regarding a new partnership for outdoor ministries
between the Maine & New Hampshire Conferences.

Read the Maine Conference Announcement<!br /> or the New Hampshire Conference Announcement.

For even more insight check out:<!br /> The Director's Blog or The Horton Center Homepage.


---

The 2012 Pilgrim Lodge Schedule has been posted.<!br /> Registration begins February 15th.


---
Photos from Women at the Well
PILGRIM LODGE 2011 FAITH FOUNDATIONS HALF-WEEK TO START LATE AFTERNOON - Updated June 1
Because many schools will be in session later than usual due to excessive snow days, the Pilgrim Lodge event "Faith Foundations" (Jun 22-25, for rising 3rd-5th graders) will begin between 3 and 4:30 pm (instead of the usual 2 to 3 pm). We originally said up to 5 pm and if that's necessary for campers to get there it's OK but we're planning to start program at 4:30. The Outdoor Ministries Committee hopes this small change will allow those whose final school day is scheduled for Wednesday, June 22 to attend this special event tailored for first time campers.
---
THANK YOU TO THE 96 PEOPLE WHO CAME AND WORKED AT JUMPSTART WEEKEND!

AND THE YOUTH GROUPS WHO WORKED AND STAYED FOR THE OVERNIGHT!
---
Photos from the 2011 Deans' Retreat, March 25-27 at Camp Mechuwana in Winthrop, Maine
---
Thank you to all 16 people who worked all day removing snow from PL roofs!
It was hard work and everyone pitched in and had a great attitude. Thank you!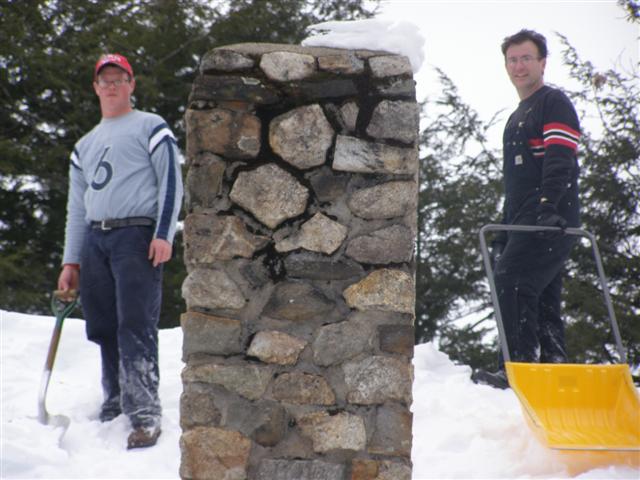 ---
The 2011 PL schedule is now posted.
---
Pilgrim Lodge Annual Appeal 2010
---
Update on the situation in Haiti from PL summer staff member Paul Rudenberg
---
---
Mission Update: PL Campers, Counselors, Deans and Staff offer gifts to Friends of Kakamega
In addition to prayer and gifts of much needed objects, PL participants raised
$11,150
for the Friends of Kakamega, the 2010 summer mission project at Pilgrim Lodge. Campers learned about how two women in Maine and one in Kenya decided to make a difference. The United Society of Friends Women (USFW) Orphan Project of Kakamega, Kenya is a grassroots effort to help children primarily whose parents have died of AIDS. It is an orphanage, a feeding program and provides educational sponsorships for orphans so they can attend school. It is run by Kenyan Quaker women of the USFW. Since 2001 they have devoted their lives to helping orphans in serious need. Thank you to the tireless presenters of from the Friends of Kakamega board who presented at virtually every PL event this summer. Thank you to everyone at camp for caring and giving from the heart.
---
Men of the Bethel Church Build New Pilgrim Lodge Picnic Tables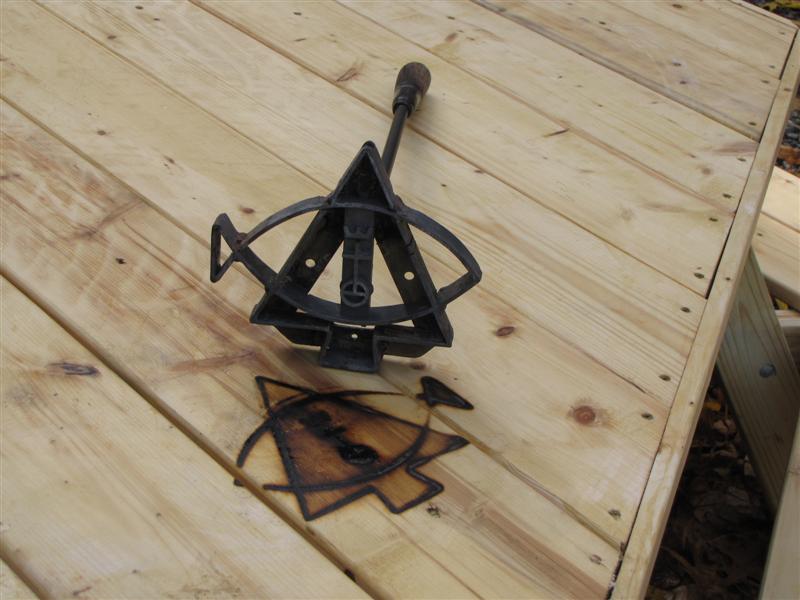 Making good use of a grant from the UCC Outdoor Ministries Association, the men of the West Parish Congregational Church UCC in Bethel built 8 new tables using an improved octagonal design. Four tables were delivered for use this summer and four more are scheduled to arrive shortly. The new tables are literally branded with the PL logo in keeping with the Bethel group's history of creative specialization for PL. This men's group has built screens for the all the cabins as well as the ping-pong porch. Thank you gentlemen! We are richly blessed! (Oct 21, 2010)
---
Archeologists Recover Ancient Artifact From The Depths of Lake Cobbosseecontee
[Maniteuters] After more than a year of debate, scientists at Pinkham University announced a startling discovery this morning. While searching for ancient communication devices at the bottom of Lake Cobbossee, archeologists found the remains of a small but distinct object. While scholars have come to little by way of consensus it is suspected that the writing on the 3 X 1.5 inch fragment is an ancient Abanaki dialect referring to a "major deity of the H-dock." As the piece was recovered from its watery grave, witnesses recount varying reports of a "deep booming echo" emanating from the northern island near the discovery. Most agree the echo included the words "it's where the fun is." With doughty zeal archeologist I.M. Acamper is quoted as saying "I just wanted to go for a swim when I felt something weird between my toes. Who knew I'd find something SO old, so very, very old?" The find has sent ripples through the academic community. Professor E.C Smith was quoted as saying "We're going to have to re-examine everything we know about H-dock mythology." Associate Dean at the Specific School of Religion, B.S. Bigney is convinced the find points to evidence of an historic basis for the legendary Nauga. He refrained from further comment except for a disturbing sound that emanated mysteriously from deep in this throat. (Oct. 21, 2010)
---
---
Huge crowd, beautiful weather for Jump Start Work Days
Season is off to a great start!

A huge thank you to everyone who turned out for Jump Start Work Days. There was a small but dedicated crew on Friday and by Saturday at noon the crowd swelled to 145! There were Jump Start Regulars, youth groups from all over, and a special crew of staff alumni there to honor Marilyn MacDuffie. In a few hours Pilgrim Lodge was raked, swept, polished, planted and repaired. This is a crowd that truly understands that Pilgrim Lodge is "Our Church's Summer Camp!"
---
Staffers return to honor Marilyn MacDuffie
Inch by inch, row by row, former Pilgrim Lodge Manager John MacDuffie preps the Pilgrim Lodge Garden with a little help from his friends in honor of his late wife Marilyn.

Right to Left, Top row: Allie McCleary Rimkunas, Karen Barnard Choate, Stephen Swanson, Daniel Eichorn and his daughter; Middle Row: Rocky Ackroyd, Sarah MacDuffie, Chad Petherbridge, Karla Swanson-Murphy; Bottom Row: Steve Kimball, Cornelius "Neil" Clark Jr., Leslie Swanson, John MacDuffie, Deborah Carll Curtis


In a memorial and tribute to Marilyn MacDuffie, who passed away last September, staff members from the seventies and eighties who knew, loved and worked with Marilyn, came to Jump Start Weekend to expand, prep and plant the organic garden. Tales were told and songs were sung while remembering Marilyn, and days together in service at Pilgrim Lodge. John MacDuffie was there as well. It was a fitting tribute to a remarkable women who loved to garden and make PL a more beautiful place in every way. Thank you to all the staffers who came to help out.

Click here and advance forward for photos from the garden reunion
---
Over 80 people stay at Pilgrim Lodge for the Youth Group Overnight!
After a hard days work, it was time for a fun night as Maine Conference Youth Groups came together for the second annual Youth Group Overnight! There were groups from the following churches: Bridgeton, Wilton, New Glouster, Gorham, Blue Hill, Alfred, South Berwick, Bangor (Hammond St.) and Sumner. It was a time of group building and connection making. We hope to see everyone back at camp this summer! Thanks also to groups from High St. Auburn and South Portland, who came and worked but were not able to stay the evening.
click here and advance forward for photos of the event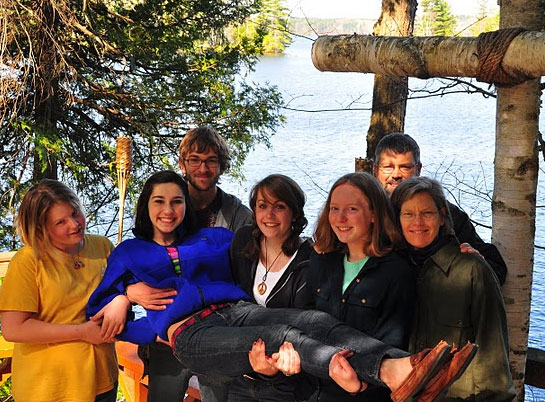 ---

The Pilgrim Lodge &
Maine Conference Outdoor Ministries
Archive Project

---
Pilgrim Lodge apparel is sweat-shop free!
---