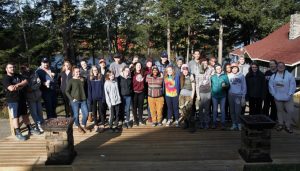 For the High Schooler who can't wait to return to PL and for those who have never experienced this amazing place;
The weekend is going to be programmed by both adults and fellow high schoolers, jointly planned and sponsored by Pilgrim Lodge and the Maine Conference State Youth Council.  It's OK if you've never heard of State Youth Council,  we would love to have you come and check it out.  There is no obligation to continue, but we bet you'll want to find out more.
Spend a weekend surrounded by other High Schoolers.  One of the optional things we will do is to help put Pilgrim Lodge to bed for the winter. During this weekend you can enjoy exciting interest groups, option times, time to relax, special and fun evening programs, and lots and lots of hot chocolate and laughter with all your old and new camp friends!
So whether you are brand new to PL, or an Arts Alive fan, or a faithful Sr. High Camper, or maybe an OSMG or Pride camper, come join us for a weekend of prayer, fun, and friendship! A special welcome to 9th graders – welcome to High School! As much fun as PL is as a middler camper, it's all that and MORE in Senior High.
Pilgrim Lodge is oh-so beautiful in the summer, but there is a special ambiance in the autumn that must be experienced.
LETS MAKE THIS ONE TO REMEMBER!