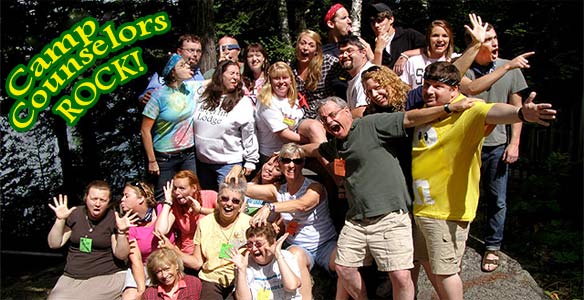 The camping program at Pilgrim Lodge depends on the help of volunteers each summer. The camping season at Pilgrim Lodge is a faith mentoring program. Please help vitalize our ministry with the gift of your time. Most counselors come back year after year because a week at Pilgrim Lodge is such a rich and rewarding experience for everyone involved. You will be asked to attend several planning meetings in the spring or early summer. For most sessions you will arrive at camp the day before campers do and will leave at the end of your session after the last camper has been picked up.
Learn More About Volunteer Opportunities
Packing Suggestions for Deans and Counselors
Counselors In Training
Download Volunteer Forms
All counselors and volunteers working with youth at Pilgrim Lodge are required to have the following paperwork on file with the camp office. Counselors in Training (CITs) should be sure to check out the CIT page as well for paperwork related to that program.
It is now possible to complete and submit all of the Volunteer paperwork online through UltraCamp. The instructions are here.
In order to open these PDF files, you must have Adobe Acrobat Reader installed on your computer. Most newer computers come with this software already, but some may still need to Download Acrobat Reader.
Once you are scheduled for a camp, please complete these in UltraCamp using these instructions or print and feel fill them out and get them to the PL office (or your Dean) as soon as possible.
It is now possible to complete all paperwork online through UltraCamp. You can access the instructions here.
New Volunteers
Voluntary Disclosure Statement
The copyright for this form is held by the American Camping Association – Used by permission.
Provide a copy of your COVID-19 Vaccination record to the office or upload through UltraCamp
Online Training For Volunteers Registration Form Once completed, you can return a copy of the Training Certificate provided by Armatus to the office or upload it through UltraCamp
State of Maine Mandated Reporter Training This training must be completed every 4 years. If you have a current training certificate for the state of Maine already, you may submit that certificate instead of completing the online training again.

You can use any browser to access this training. When you begin, read all the directions first. When you begin the training, do not close your web browser until the training, quiz, and certificate are complete. If you close your browser part of the way through, you will need to begin again. The training takes 1-2 hours to complete.
Upon completion of the quiz – print certificate
Upload your certificate into UltraCamp or submit to the office
Returning Volunteers
Returning Volunteer Review Must be completed annually.
Voluntary Disclosure Statement Must be reviewed, updated (if necessary), and signed annually
Health Form 4 Must be reviewed, updated (if necessary), and signed annually
Provide a copy of your COVID-19 Vaccination Record to the office or upload through UltraCamp
Background Check Authorization Form Must be completed annually
State of Maine Mandated Reporter Training This training must be completed every 4 years. If you have a current training certificate for the state of Maine already, you may submit that certificate instead of completing the online training again.

You can use any browser to access this training. When you begin, read all the directions first. When you begin the training, do not close your web browser until the training, quiz, and certificate are complete. If you close your browser part of the way through, you will need to begin again. The training takes 1-2 hours to complete.
Upon completion of the quiz – print certificate
Upload your certificate into UltraCamp or submit to the office
Counselors In Training (CITs)
Online Training For Volunteers Registration Form Once completed, you can return a copy of the Training Certificate provided by Armatus to the office or upload it through UltraCamp
Provide a Copy of your COVID-19 Vaccination Record to the office or upload through UltraCamp