A Summer Reflection by Rev. Sara Bartlett
Rev. Sara Bartlett is a dean for Middler Island Camp, Chair of the Maine Conference United Church of Christ Board of Directors and the minister of the Second Congregational Church of Norway, which generously shares her with Pilgrim Lodge for a week each summer. Sara shares her reflections on Island Camp from the summer of 2022.
Check out this unique camp experience here.
Things I Learned at Pilgrim Lodge
If the Maine Conference is a church, Pilgrim Lodge is the sanctuary. For this is where the sacred nature of peace, connection, and community are created.
The pine trees are the canopy under which we sit, the loons at night lull campers to sleep and both the challenges and the successes bond people together for future time which will hold the memories.
Middler Island Camp is held on the island a short kayak trip across Lake Cobbosseecontee from the main part of the Pilgrim Lodge camp. The camp was for middle school students and was a time with no internet or electronic devices. Campers, through the guidance of the adults with them, were responsible for meals, fires, putting up tarps, coming up with ideas for programming and games, and planning lake expeditions.
I am grateful for this time in ministry outside of the walls of a building. It is a ministry which makes a difference to children and youth of the greater Church. From my own experience, seeing former campers become counselors, deans, and ministers is heartwarming and without the support of the local churches here in the Maine Conference so many children, and teenagers would not experience camp.
Here are some things that I learned at Pilgrim Lodge:
Rituals are important:
Going back to a place after two years of COVID, I fell into rituals I have known for decades. I felt a sense of belonging when I crossed the threshold into the first building. The smell of maple syrup from years past has melted into the walls, inviting me into memories I had forgotten. Knowing how the coffee is made, knowing where to find the utensils, and even the simple actions of cleaning off the table after a meal, and placing the plates, cups and silverware in the dish rack…brought me a sense of normalcy I have been missing.
But even more important are the people I saw when I arrived in that first building. For these are the people who have loved me unconditionally through the years…from my former pastor to colleagues whom I have only seen on ZOOM. Seeing them and receiving warm hugs of remembrance, reminded me that I belong to this place where doing the same thing over and over brings a sense of stability and comfort.
BUT….
Flexibility to new things is essential:
In years past sleeping at Island Camp was only done in tents. This includes both counselors and campers being expected to arrive on the island and set up their spots as soon as possible. However, over the past two years, the trees and brush on the island took over their grounds, taking back the places which had been cleared for tents. This means that we had to look for new areas to be cleared before the campers arrived. Sunday morning, my co-dean used his chainsaw to cut down trees which had died and I then stacked the wood. Through this process we created new clearings which were definitely not what had been used before, but it was needed. However, we also needed to do something else new. My co-dean and I were not able to use tents, so we slept in the decades old lean-tos. The paths which had been created in years past were also lost to fallen, dead trees and new bushes. It would not work to keep going on these same trails, so we had to make new ones, ones which made sense in the way the island had re-created itself during its isolation from human beings.
It was heavy, hard work, and we didn't know if we would succeed, but it was worth it.
Allow for magical moments given to you through God's creativity:
At one point on Tuesday, some folks wanted to experience God's creation. We spent an hour building fairy houses from what we found on the ground around the woods. The fairy houses remain where they were built, leaving behind a belief that our creativity might call for that which we cannot see.
People watch how you treat someone who is struggling. Inviting boundaries through unconditional love can make a difference in how safe others feel:
Everyone is welcome, but not all behaviors are welcome. How we treat someone is always being watched by others and gives observers an understanding that when they make mistakes they will be loved through accountability.
Being in the rhythm of nature can be boring, but also allowing your body to adjust means you become part of nature, not just an observer:
Sunday evening it can be hard to find things to do. For me, I was used to looking at my phone, watching the news, and being assaulted from media on all sides. By Monday evening I was able to observe time in a whole new way, I ate when I was hungry, I went to bed when I was tired, talked with others about their lives, and allowed God's creation to be part of my spirit. I journaled more, prayed more, and read a book which had nothing to do with work. It was a wonderful way to re-start my soul.
Going Against the waves is hard work, but can be done:
Coming back from a kayaking trip, we were against a very strong wind, and the waves were crashing against the bow of the kayaks. Slowly but surely we were able to get back. It was hard work, but we did it and did it together!
If no one takes a shower or bath for a week, everyone stinks equally, and you can't smell each other:
This one probably needs no explanation.
Leaders, not bosses, work best:
Leaders guide and support, allow space for growth, success, and challenges. Telling others the right way, or "this is how we do it" means one person feels their thoughts hold more value than other's. God invites us into the knowledge that everyone has something to contribute, and everyone can learn from each other!
Use the resources you have, not the ones you wish you have:
One night the campers wanted to have tacos, but we only had the shells, and food delivery from across the water was not coming until the next day, so campers used some chicken pieces, and provolone cheese slices to make the tacos they could have.
A sense of humor is a must:
Mistakes happen; humor to get through it helps build trust. Humor helps settle everyone down, and creates room for vulnerability. Goofiness with teenagers is a plus. One night the campers decided to have a camp version of the tv series "Chopped" where they made teams and competed to make dinner from the supplies provided to them by staff. Being goofy with the campers allowed space for them to be themselves and know the process of learning to be a team was just as important, if not more so, than the outcome.
Joining others in their sacred time is valuable to all and creates understanding that all humans are interconnected:
There were two other camps occurring at Pilgrim Lodge the same week we were there. The other two occurred on the mainland. So Friday morning, our group kayaked over to the PL chapel, set against the lake, and in our kayaks, joined the worship service of the youngest campers.
Friday night we were back on the mainland for the evening and joined Camp Pride for their Sacred Gathering. Their sacred time reflected their multi-faith community. One blessing was Jewish, one blessing was Wiccan, and one blessing was Communion. Our campers were invited to join in all of these, which some did. It was beneficial to hear how our faiths are interconnected and similar to each other. It also helped create an understanding that joining others for worship just makes our own experience of faith even better.
If children and youth feel like they are part of the ministry, chances are better they will join you:
If we want other generations to join us in worship or sacred time, we must invite them into the space wherever they are in their faith journeys. Their sacred music might be different than ours. The way they connect with each other might be different. The way they think about faith might be different. All of this might be different than what we want or are used to doing in worship, but when we invite young people to participate in faith life, they may be more apt to join us.
Being aware of social justice is important:
The campers were learning about those who were stuck in Ukraine and are unable to leave….those of a darker skin tone or immigrants not being allowed to leave the country and become refugees in other countries. Money was raised for organizations who are trying to help ALL escape the war-torn country.
Communication is Essential for Survival:
If people, or groups of people don't communicate, you don't eat, dishes don't get done, and fires don't get built. Projects don't get fully completed. If leaders communicate, then they can discuss different perspectives, know the other values your opinion and values you as a human being who is part of the community. If communication happens, not everyone gets to do everything their way, but trust is built.
Group success means letting go of having everything you want:
If you look to worship time, food, plans and projects which only mean something to you, you reduce the group trust and ability to work together for the greater good. On the upside, if someone is willing to hear what other people have to say, trust is built and everyone feels like they have value.
Because….
Community wrapped in sacred covenant is God's goal. Each micro community that learns to work together in faith, trust, and love is an example of God's kingdom here on Earth…and is what and who we are called to be.
And finally….
Communion is communion even if it looks a bit different:
We didn't have communion bread or grape juice for our communion. So instead, we used the resources we had available: a slice of white bread with grape jelly on it.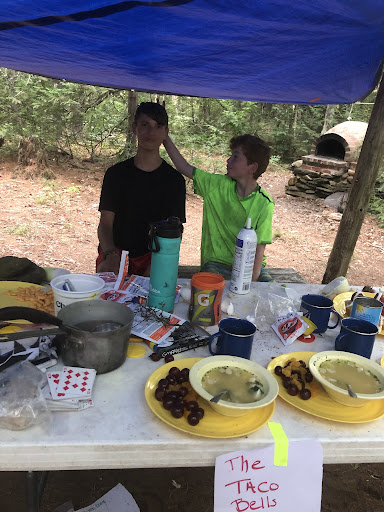 ---