Picture this…a leisurely get-away to camp, a simple cabin to share with your family or friends, time in kayaks on the lake, a good book enjoyed in a rocking chair while the kids play ping pong, three meals a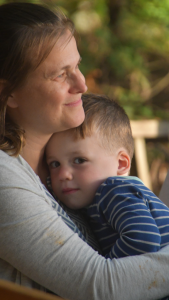 day prepared for you with no dishes to worry about…it is all available to you during Friends and Family Week at Pilgrim Lodge.
This week brings you the beauty of time at camp without the traditional structured camp programming.
Friends and Family Week at Camp is an opportunity for relaxation, making memories, and fun at Pilgrim Lodge on beautiful Lake Cobbosseecontee. This week offers flexible stays of 2 to 9 nights for groups to enjoy time together at camp. All activities offered are optional.
All-inclusive rates provide access to:
A cabin with a private bathroom, hot shower, electricity and screened-in porch
Buffet meals in the dining hall
Use of the site includes access to:

Scheduled times at the Waterfront with a lifeguard on duty and access to paddleboards, kayaks, canoes and rowboats
The Lodge with games, foosball, and ping pong
Walking trails, the outdoor Labyrinth and basketball hoops
Twice daily optional scheduled activities provided by the camp staff (for example, a craft, a nature activity, etc)
Daily store time with ice cream for sale
Here are photos of our camp.
Here's how it works: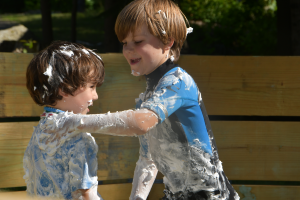 Read the Terms and Conditions and Camp Rules document
Fill out this online form to reserve a cabin for your group for the dates and number of nights that you'd like to stay (2-night minimum requirement). Provide information about each person in your group who will stay in the cabin.
Upon completion of the online form, we will email an invoice to the Primary Contact for the reservation. A 25% non-refundable deposit must be made within one week of receiving the invoice to secure the reservation.
Pay the balance of your reservation fees by August 1, 2023.
Complete the Check-In Form by individual or family upon arrival.
Enjoy!
Contact us with questions at info@pilgrimlodge.org or at 207-724-3200.
Rates:
A Cabin charge to reserve a cabin is $160/night (most cabins sleep up to 9 people) – a minimum stay of 2 nights is required to reserve a cabin.
An All-Inclusive meal and activity charge is $75/person/night for each guest in the group age 5 and older. Children 4 and under are free! (Minors must attend with a parent or legal guardian.)
Food and Meals at Camp: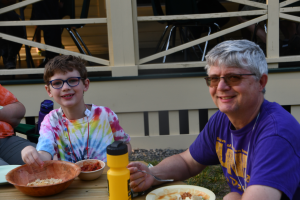 Buffet meals will be provided each day from 8:00-9:00 (cold cereal and fruit will be available earlier), 12:30-1:30 and 6:00-7:00. Fruit, tea and coffee will be accessible all day.
We are accustomed to providing vegetarian, gluten-free and dairy free options at each meal. If you have specific dietary restrictions, we encourage you to let us know in advance (contact us at info@pilgrimlodge.org with details). If you need to bring some of your own food to ensure that you have what you need during your time at camp, you are welcome to do so!
Cabins do not have refrigeration or kitchens. If you would like to bring some of your own food to camp, please ensure that it is packed in a cooler or bags to avoid attracting hungry critters into your cabin.
Alcohol, illegal drugs, and recreational marijuana are strictly prohibited at Pilgrim Lodge.
Cabins:
Pilgrim Lodge has 14 cabins connected by a long, wooden boardwalk. The average cabin sleeps 9 people with 4 bunk beds inside and one cot on each screened-in porch. While each cabin is very basic with a primary room with beds and a screened porch with a cot, each cabin has electricity and contains a bathroom with a single occupancy toilet and sinkand a shower room with hot water.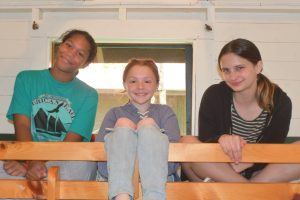 A number of cabins are set up for accessibility with ramps and accessible bathrooms and showers.
When you set up your reservation, please let us know of any accessibility accommodations needed to support anyone in your group. You may not select a specific cabin when you set up your reservation, but we will do our best to accommodate requests based on space and availability.
Each bed has a mattress, but guests must bring their own bedding (including pillows) and towels. Guests should bring their own personal hygiene items.
To accommodate sleeping needs for all guests, we ask that quiet hours between 10 PM and 7 AM be respected along the boardwalk. Noisier group activities may take place in the Lodge or Dining Hall away from sleeping areas.
The Waterfront:
Pilgrim Lodge has a beautiful waterfront area with canoes, kayaks, paddleboards and rowboats available to guests. It will be open for a scheduled period each morning and afternoon (weather-permitting). Swimming and boating are allowed with a lifeguard on duty during scheduled times. The boardwalk extends to the waterfront to support accessibility. Parents or legal guardians must accompany their children at the waterfront. Personal flotation devices are available for adults and children and must be worn at all times when in boats.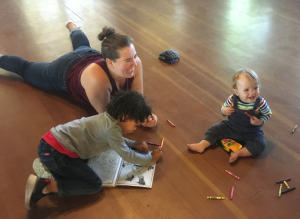 Things to Do:
Pilgrim Lodge is situated on roughly 100 acres of wooded land on Lake Cobbosseecontee. While at camp,
guests can enjoy use of the:
The Lodge with games and puzzles, foosball, and ping pong
Walking trails: great for exploring, birding and checking out the plants of the woods
A large-outdoor Labyrinth
Waterfront for swimming and boating (use only during scheduled waterfront periods)
Twice daily optional scheduled activities provided by the camp staff (for example, a craft, a nature activity, etc).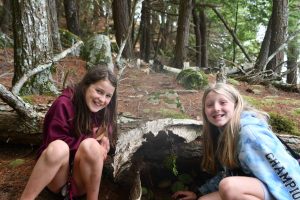 Pilgrim Lodge is located roughly 15 minutes from both i-95 and i-295 to provide easy access to short excursions to explore other great Maine offerings. Camp is located roughly 20 minutes from Augusta and Hallowell, an hour from Portland, 45 minutes Freeport and roughly an hour to parts of the Maine coast.
We ask guests to use a Sign-Out / Sign-In Sheet if they utilize the walking trails or leave camp for other excursions. In case of an emergency, we aim to be able to account for the location of all guests.
Health and Safety:
Upon check-in, guests will be asked to complete a "Check-In" Form to provide some basic health and emergency contact information together with a release of liability form to acknowledge they are utilizing the site at their own risk. There will not be a nurse on-site for this program. Each family is responsible for their own health needs.
Guests should be aware that there are natural hazards present including uneven ground, insects and ticks, poison ivy and other exposure to the natural environment.
All guests are expected to follow any COVID-19 Guidelines at Pilgrim Lodge in effect at the time of the reservation.
WiFi and Cellular:
There is access to WiFi in the central buildings of camp, but not a strong signal in the cabins. There is cellular signal at camp, but signal strength depends on the carrier. While you will have contact with the outside world while at Pilgrim Lodge, we encourage you to relax and unplug!