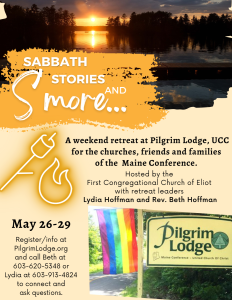 How cool it is that Pilgrim Lodge is our church camp!?
How much cooler is it that you can now come to camp as a church!?
Sabbath, Stories and Smore is a weekend event with all the fixings of camp life with the added joy of coming with your church community and the wider friends and family of the Maine Conference United Church of Christ. Retreat leaders Rev. Beth Hoffman and PL Assistant Director, Lydia Hoffman have a deep love of "church at camp" and are making a space for you to come as a family, as a group of friends, as staff alum or with your church group. PL style programming will be an option throughout the weekend and sacred space for your group needs and hopes will be made a priority. Free time is in abundance.  Games, campfires, waterfront activities, shared meals, chapel services, guest speakers and s'more, all for you! Pastors bring your congregations and congregations bring your pastor. Come enjoy the ooey, gooey goodness of s'more PL with your church and register for the sweetest summer ever.
Options are available to register for one, two or three nights with tent options available. Participant under the age of 18 must attend with a parent or guardian.
If you are coming with a group from your church and would like to carve out some space and time for your own internal programming, just let us know!