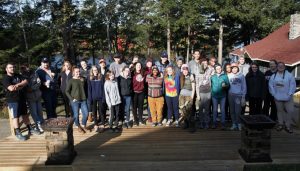 It's a hectic new school year, and you're probably ready for a PL getaway already!
Pilgrim Lodge Senior High Retreat Weekend
Whether you are a Sr. High Camper, an Arts Aliver, or a Camp Pride, Best of Both Worlds, OSMG or Island Adventure camper; come join us for a weekend of prayer, fun, and friendship!
For 9th graders it's a nice welcome to your PL High School years. As much fun as PL is as a Middler camper, it's all that and MORE in High School!
We will build a volunteer project, worship, and have faith discussions together, and have all the PL FUN!
Camperships are available, please call PL at 724-3200 to ask for more details.