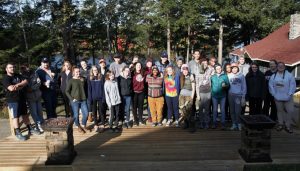 It's a hectic new school year, and you're probably ready for a PL getaway already!
Pilgrim Lodge High School Retreat Weekend
This weekend is open to anyone that is currently starting grades 9 through 12.
Come join us for a laid-back weekend of fun and friendship.
We will play games, swim, boat, make s'mores, sing around the campfire.
We will build a volunteer project, worship and have faith discussions together, and have all the PL fun!
It's all the fun of a week at PL, condensed into a spirit-filled weekend.
Camperships are available – please call PL at 724-3200 for more details.