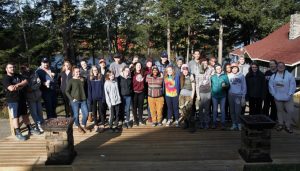 It's a hectic new school year, and you're probably ready for a PL getaway already!
Pilgrim Lodge Senior High Retreat Weekend
Whether you are a Sr. High Camper, an Arts Aliver, or a Camp Pride or OSMG camper; come join us for a weekend of prayer, fun, and friendship!
For 9th graders it's a nice welcome to your PL High School years. As much fun as PL is as a Middler camper, it's all that and MORE in High School!
Come and enjoy exciting activities; take time to relax and enjoy hot chocolate and laughter with your old and new camp friends!
Pilgrim Lodge is beautiful in the summer, but there is a special ambiance in the autumn that must be experienced. So, please register online ASAP as our limited numbers of spaces are filling up, and we'd love to see YOU there!
Camperships are available, please call PL at 724-3200 to ask for more details.