On June 12, join us for the Maine Conference Day at Camp for in-person worship at Pilgrim Lodge as we welcome friends back to camp for 2022 season. Worship will begin at 11 AM and, if you'd like to stick around for the day, you have the option of joining us for a cookout lunch ($10 donation appreciated) and can purchase a Day Pass to enjoy the site for the afternoon. See all the information about how to RSVP for the meal or to purchase a Day Pass here.
If you can't make it, you can join us for a virtual worship service online at 6 PM on the Pilgrim Lodge Facebook page.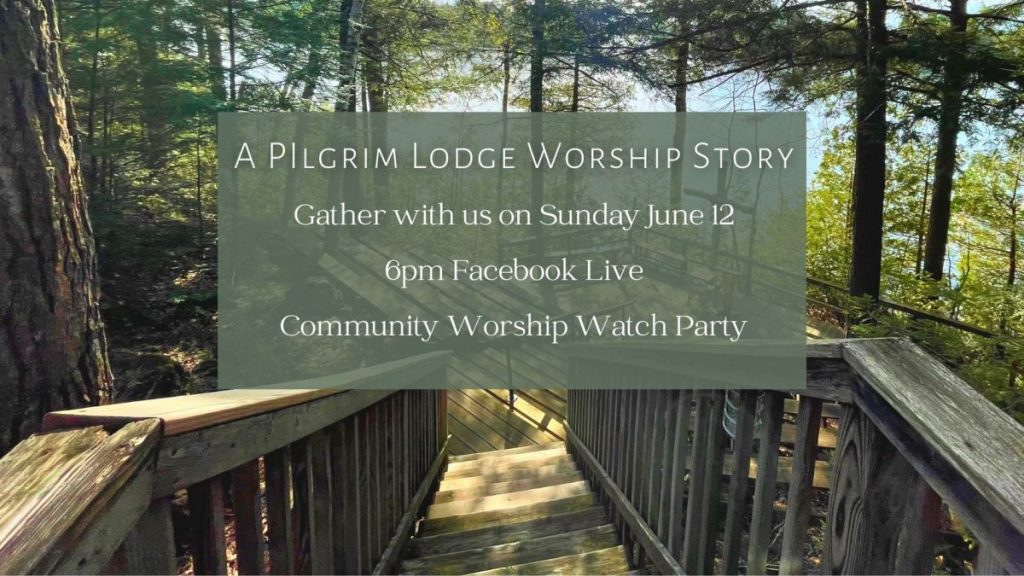 Join us for CAMP SUNDAY this Sunday, June 12 at 6pm right here on our Facebook page! We will sing, pray, listen, and love together as camp family as we prepare to welcome the new season of Pilgrim Lodge. Come campers, come deans, come family and friends! Come and be together in this virtual space. Sunday night. 6pm.At the end of the 2021 Day Pass Summer, beloved Pilgrim Lodge community members began to come together to add their voice and song to a virtual worship service dedicated to all of the PL campers who were missing their home camp, their thin place, their sacred space. Pastors, Deans, Staff Members, Counselors, Campers, and Maine Conference Congregants came together to celebrate PL in the form of traditional camp worship. Each added their own part, completing the puzzle of prayer that became this video available to any and all who wish to worship camp-style, away from camp. We hope you will feel the echo calling back to you, and choose to come back to camp this summer – we have been long awaiting your arrival! Come worship with us in the chapel! Come sit on the dock to watch the sunset! Come back to camp. We cannot wait to see you!