A reflection by Pilgrim Lodge Volunteer, Rev. Peter Ilgenfritz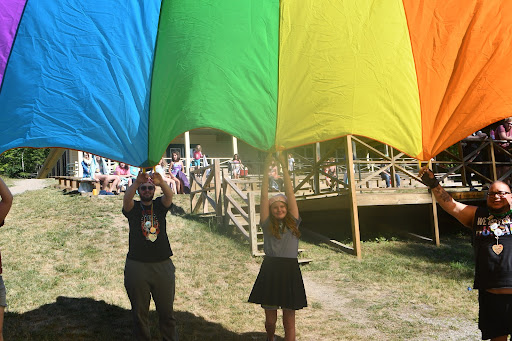 I'm trading my sorrows
I'm trading my shame
I'm laying it down
For the joy of the world.
I'm trading my sickness
I'm trading my pain
I'm laying it down
For the joy of the world.
(My favorite song from Camp Pride – an adaptation and expanded imagination of Andy Green's song, "Trading My Sorrows.")
This summer, I served as a chaplain with Beth Hoffman at Camp Pride, an interfaith LGBTQ camp for 9th – 12th graders at Pilgrim Lodge, the United Church of Christ camp in Maine. Like many camps, this was the first summer the camp has been offered since 2019 when I first was introduced to Camp Pride and served as a sailing instructor.
I'm not sure if being a chaplain was a promotion or demotion from sailing instructor, but what I do know is the privilege I felt again this year in being immersed in listening and learning about the particular joys, challenges, questions and realities the campers and counselors navigate in embodying and exploring gender identities and expressions, being trans or queer, ways of showing up in the world that too often are experienced by others as "weird", "strange" or "wrong."
Everybody around the dinner table has their particular stories of exclusion, of being left out, of being hurt or threatened or made to feel unsafe. What an amazing grace and gift to have a week that is all about the opposite – of affirmation and celebration of the wonderful diversity of what it means to be human. A week to explore and celebrate who you are and who you are becoming. To go from "odd person out" to queer person "in". Where your name, choice of pronouns, hair color, style of dress is something that just IS.
Like many youth today, this is a community that lives with depression and anxiety. A community where neurodiversity (variations in sociability, learning, attention, mood and other mental functions) is just part of the texture and shape of creating a community where there is recognition of diverse needs and permission to take care of yourself.
Each day I experienced a community of an ever widening and changing circle where kids who, in other contexts, would be left on the outside finding their place on the inside. It happened too for the straight boy who came to camp to support his queer sister and much to his own delight found a community of fun, joy, play and connection.
The United Church of Christ talks a good and powerful talk about inclusion and welcoming of all that is lived out in particular communities in ways that too often fall short and cause hurt and leave kids like these suspicious and distrusting if any church or spiritual community is truly a safe place to be and bring your whole self. During the week, I experienced a church living into its call, living out the words it proclaims. I experienced a group of kids who began the week suspicious of morning and evening "sacred gathering" finding joy in creating a holy and sacred time together that many had never experienced before.
On the last morning, I looked around our circle waiting to go into breakfast and felt so proud of these young people, the amazing people they are and are becoming.
On the Sunday morning after camp, my prayer was for all of the campers and counselors returning home. Waking in at world that, for many, is not an easy place to return to or be. Where it's not easy navigating safety and being true to yourself. Where instead of having your own name and pronouns, you have other names thrust and imposed upon you. Places where depression and anxiety, is born.
Yes, today, my prayer is that all of us might also wake up to the memory of Camp Pride and the promise of creating a community of such intentional inclusion and wild welcome that can make us all proud.